My architecture is better than your architecture
What would cities look like if there were no differences in the attitudes about architecture and generally art? Generational and temporal differences in ideas certainly contributed to the development of art. Competitions of ideas and also the competing vanities of artists, almost without exceptions, brought something good. In this article I describe two cases that influenced the development of architecture; the first one less, and the second one a little bit more.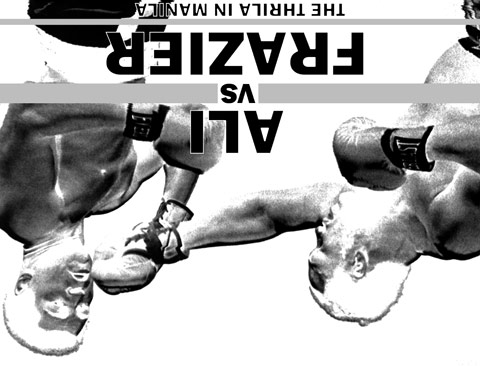 THREE ROUND BOXING MATCH
Venue: Faculty of Architecture in Belgrade
Date: Fall 1996
Actors: Marko Stojčić (the author of this article, at the time, student at the Faculty of Architecture in Belgrade) vs Miodrag Rajević (professor at the Faculty of Architecture in Belgrade)
A quarter of a century after the encounter of Joe Frazier and Muhammad Ali, there was a new encounter of similar proportions. The new match lasted much longer than the fifteen round match in Manila. It lasted six months, three rounds – two month per round. In the first round, both players indicated what they want. The first player (myself) tried to initiate the implementation of a school project – movie theatre on Slavia, in Belgrade. The facility was conceived as an organic structure with program elements in compliance with its purpose and with the vivid location. Second player (prof.Rajević) reacted strongly, with indignation, saying that it is pointless to design a structure with the insufficiently defined function and form that cannot be classified under the principles of postmodern architecture. This criticism also meant that such undertakings, attempts, are reserved for those who have reached the prestigious position through experience and recognition of the primary principles and that they can safely transcend those principles but cannot negate them.
In the second round, both players clearly showed their stand. The first player presented his proposal, while the second player used his greatest weapon, the power of authority. The result of this conflict was the ultimatum imposed by the second player – "you can operate by the established rules or you can change the establishment". It was suggested to the first player to study sculpture instead of architecture.
The third round was much less tense then the second round. The nature of architecture prevailed. Architecture ceased to be art and became technical science that has earthly limitations. The first player yield under the influence of his opponent and he completely changed his project in compliance with the requirements of the second player.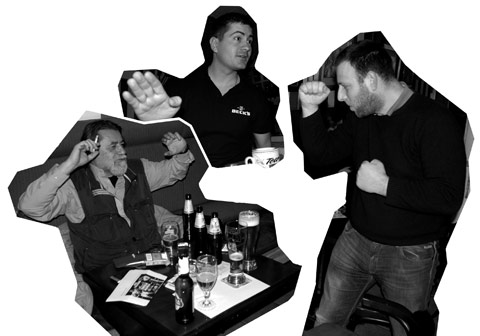 If we distinguish only good and bad architecture then maybe we cannot comprise everything that we want to say. On the one hand there is the opinion that it is absurd not to use in modern architecture all the technological achievements and experiences occurred in between the two generations. The other attitude suggests that it is imprudent to use unverified values when history tells us what values are viable.
Leon Krier and Peter Eisenman fistfight in Heaven, 1982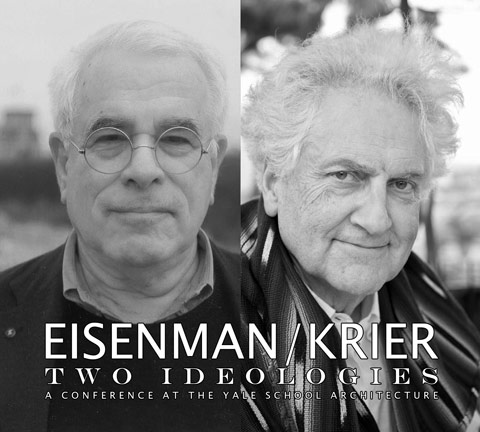 The following discussion represents a virtual debate with statements by influential architects and intellectuals on the issue of classicism. Based on real and virtual quotes, the debate is fictitiously edited by KATARXIS.
Peter Eisenmann: "There are only perfect ideas in the classical ideology. However today, where the elements of cosmology are no longer the same, we cannot return to a classical system."
Leon Krier: "Our goal as artists and architects consists in understanding that universal system and that universal order which allow us to produce artistical artefacts, in the same way in which nature is creating individual beings. This is what makes classicism: It represents the fundamental system which allows us to create objects of timeless beauty."
Peter Eisenman: "Classicism encompasses the idea of perfection as it can be encountered in Nature. As I said already, it is not possible anymore today to represent this classical concept of perfection -of harmony between Man and Nature, because this ideal state has been destroyed by forces generated by mankind. One cannot continue to use classical means of representation, because, what they represent, does not exist anymore."
Leon Krier: "It is absurd to prohibit good architecture because we live in terrible times."
Peter Eisenmann: "Leon, come on, you cannot build this way anymore today!"
Leon Krier: "You can't, but I can!"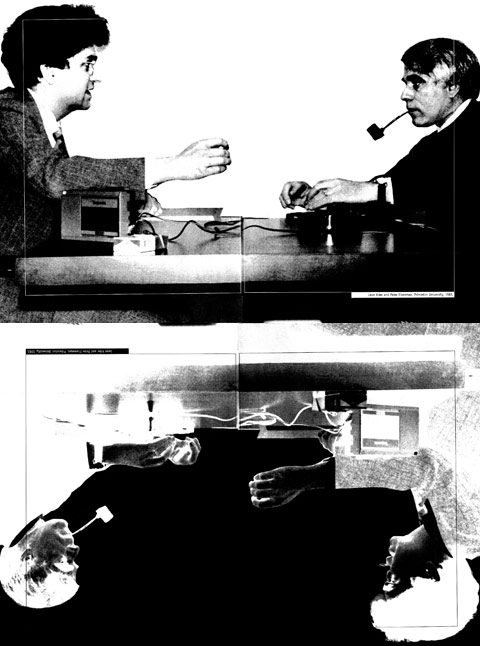 MATERIALITY AND ARCHITECTURE
Mapping an unexpected corner of relationship between the materiality of Architecture and the ephemeral and transcendent nature of Architecture is Leon Krier. Luxemburg architect and designer for Prince Charles has built a career from a frontal assault on Modernism, earning professional celebrity in the 80's from an ongoing debate with Peter Eisenman about the direction of design exploration. The two are dear friends now, and recently Mr. Eisenman sat on a final jury for Mr. Krier's studio. The following discussion is a polite exchange between the two as Mr. Krier introduced the studio problem. It is valuable as it suggests a way to approach Western Architecture's cultural heritage and even catches a participant in one of those "Architecture is…" moments, where in order to explain why we intervene in a certain way with our work, we end up offering a definition of Architecture as a common starting point…
Leon Krier: We looked at this. The students – everyone—had to draw. We had to research here. They had to draw for the first time in their life one of the buildings. Not only in […] but also in grade elevation, understand the construction, understand the materials. An all of this material had to be put on the computer so it becomes a bank of knowledge, not only of style but also of technique. Which then became a common index which can be reused by everyone in the next phase, which was the problem phase. Once these records were made, we could do some brief exercises — to take a detail and to distort it. Distort it from the grotesque to the sublime, [in order] to be able to understand what is classical. To understand what is the nature of the classical, what is the best proportion of the column in a given situation.
[Three minutes later, at the end of the studio problem introduction.]
Peter Eisenman: Leon, before we get started, I have two questions. What is the difference to you between the grotesque and the sublime? You said before you were going to take a classical column and move it towards the grotesque or the sublime
Krier: There are many, many ahh…
Peter Eisenman: I need a quick mission statement.
Krier: Bulimia or anorexia would be a good, ahh…
Peter Eisenman: Oh. And the other would be, what's the difference between classical and vernacular?
Leon Krier: Yes. Ahh. [...] I think that architecture is ninety percent vernacular. Any of it…
Other: But what does it look like?
Leon Krier: It is technology. It is technique of building. It has no "style." It is joining natural materials in a tectonic way. Concrete and steel displaced this, because everything becomes style. When you use concrete there is no more "vernacular."
Peter Eisenman: Why not use concrete instead of vernacular materials?
Leon Krier: No. It's not a natural material. It's nature. And we are not nature, we are cultural. We are artificial. Whereas concrete is a form of blubber, which has no shape. It sticks together in forms which are completely untectonic and holds up for a while. But not for very long. Its a very fragile material. And very well nasty…
Peter Eisenman: What's the difference between bricks… bricks and mortar, mortar and concrete materially?
Leon Krier: Bricks? Oh, the cost. The energy cost. We should have Glenn Murcutt up. The energy cost to produce or create one brick is about… "x", and to produce reinforced concrete cost would be a factor of about seven — at a minimum.
Peter Eisenman: But P.S. — just in terms of cost – [Demitri Porphyrios?]'s brick-and-mortar building at Princeton is the most expensive buildings ever built, at Princeton. And I don't know what…
Leon Krier: We are conducted to an architecture, to brick buildings, any style — all our buildings are fake. Even our industrial building. But that's the industrial condition. Nevertheless, we have the model of joining natural materials in a tectonic way, that is the overriding intellectual discipline. Materials, which informs architecture. Now Architecture is when you join these materials in an artful way. But I don't think you need 150% of []'s to be happy. Maybe 10% of the [] is enough. It is correctly those…
Peter Eisenman: That's the artfulness of the vernacular? When vernacular becomes artful it's classical?
Krier: Yes.
Posted in: Architects, arhitekton 13, Home, Published Articles, Related, Publicize, Theory of Architecture
Tags: Leon Krier, Marko Stojčić, Miodrag Rajević, Peter Eisenman, Serbia