Central Square in Požega
Project: Central Square in Požega design
Area: 10 000 sqm
Authors: StudioS, Arch. Oliver Stanković and Arch. Dragana Stevanović
Collaborators: Arch. Ivan Resan, Arch. Marko Nestorović
Main project: Hidroprojekat saobraćaj, StudioS
Investors: The Municipality of Požega and Land Development Agency of the Municipality of Požega
Photos: Milica Đorđević, Vladan Prodanović, StudioS
Year of design: 2011 (based on the project that received the first prize at the competition held in 1998)
Year of completion: 2011 -2012
Following the decree of Knjaz Miloš (Duke), in 1832, the engineer Lazar Zuban, secretary of the Governing Soviet of the Principality, has laid the regulation line and formed a circular square. Besides the plan of Poreč (Donji Milanovac) from 1831, the plans of Požega and Karanovac (Kraljevo) represent the first activities of urban planning in Serbia.
180 years after the creation of the Square and 60 years after the last extensive reconstruction in 1953, the complete reconstruction of the Central square in Požega was carried out.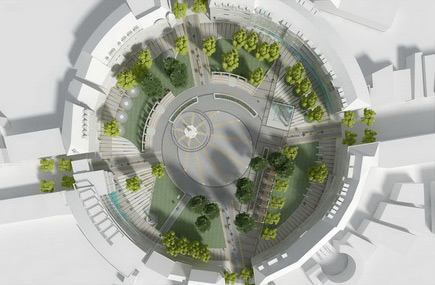 SQUARE GEOMETRY
- The cross in the circle. The historical traffic matrix is preserved up to the central circle and it is emphasized by the paving scheme.
- The functional and ambient division of the space was achieved by using the inherited geometry of the Square and the dominant points in the immediate environment.
- The Memorial fountain from 1928 and the existing pedestrian dominant axis form a balance in the preserved orthogonal matrix of the city center.
- The circle segments between traffic lines are emphasized also in the present solution of the Square.
- Three dominant areas of the Square are: eastern, central and western piazzetta.
- Within the central piazzetta with amphitheater, the circle around the Memorial fountain is emphasized by water spiral. The stage pavilion is adjacent to the central piazzetta.
- The flat segment of the fountain highlights the main pedestrian route along the eastern piazzetta.
SQUARE FUNCTION
- The Square is a unique entity with many interwoven contents – cultural activities, business, trade, catering industry and housing.
- The central piazzetta with the Memorial fountain and the amphitheater serves as the place of gathering.
- The stage pavilion is a place for everyday manifestations and it represents an allusion to the Scale of the Municipality from the old times, when the Square was founded.
- The promenade on the east piazzetta supports the north-south axis as the main pedestrian route in the Square surrounding area.
- Circular pedestrian street is expanded around the Square and it has facades on the both sides (building facade and the park – green facade). The tall trees at the Square from the fifties have been preserved.
- The circular pedestrian street is equipped with paved surfaces and L shaped base benches for sculptural settings.
- The western piazzetta is a widening of the circular pedestrian street, in front of the Municipality building, with the place set aside for the monument of Knjaz Miloš (Duke).